coffeestudies
OMG I SWORE TO THE PAIR OF FAKE VULCAN EARS I DON'T HAVE THAT I'M NEVER GONNA WRITE ANYTHING AGAIN AND MORE IMPORTANTLY, IN CASE OF BREAKING RULE #1, WON'T ALLOW ANYONE TO SEE IT. OH GOD.
But! All is fair in love and war. Plus, there're pictures; it can't be that bad. So this is my entry for the first Ship Wars prompt over at

st_respect
:
Our First Date
.
Title:
Dear Captain's Log
Description:
Kirk has a cunning plan! Tonight, no Klingons, Space Nazis, or Other People will stand in his way to his first officer's heart!
Rating:
PG-13, due to a word that shouldn't be said in front of kids?
Warnings:
none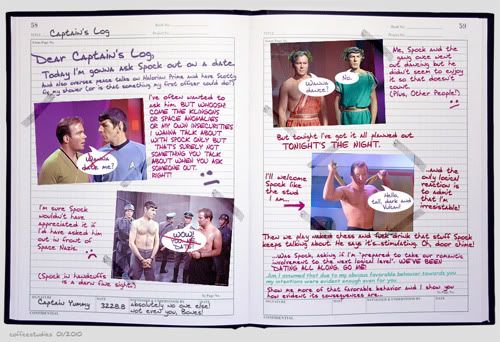 MAKE IT BIGGER!
Captain's Log
Signature: Captain Yummy
Date: 3228.8
Witnessed and understood by: absolutely no one else! Not even you, Bones!
Dear Captain's Log,
Today I'm gonna ask Spock out on a date. And also oversee peace talks on Halorian Prime and have Scotty fix my shower (or is that something my first officer could do?)
I've often wanted to ask him. BUT WHOOSH! COME THE KLINGONS OR SPACE ANOMALIES OR MY OWN INSECURITIES I WANNA TALK ABOUT WITH SPOCK ONLY BUT THAT'S SURELY NOT SOMETHING YOU TALK ABOUT WHEN YOU ASK SOMEONE OUT. RIGHT?
I'm sure Spock wouldn't have appreciated it if I'd have asked him out in front of Space Nazis.
(Spock in handcuffs is a darn fine sight.)
Me, Spock and the gang once went out dancing but he didn't seem to enjoy it so that doesn't count. (Plus, Other People!)
But tonight I've got it all planned out. Tonight's the night.
I'll welcome Spock like the stud I am and the only logical reaction is to admit that I'm irresistible!
Then we play
naked chess
and
fuck
drink that stuff Spock keeps talking about. He says it's... stimulating. Oh, door chime!
...Was Spock, asking if I'm "prepared to take our romantic involvement to the next logical level". WE'VE BEEN DATING ALL ALONG. GO ME!
SPOCK: Jim, I assumed that due to my obvious favorable behavior towards you my intentions were evident enough even for you.
JIM: Show me more of that favorable behavior and I show you how evident its consequences are...
Ok, so, if there's anything really really wrong (define "really really wrong" as convenient) about it, tell me? I'll try and fix it in time, go team!
*