coffeestudies
So this is the joint entry for the second Ship Wars prompt over at

st_respect
:
Ain't no sunshine when (s)he's gone
.
And I can tell you,

ladyblahblah
and I totally kicked some artsy ass! She wrote the drabble and I alternatively cried onto my keyboard and laughed hysterically because

ladyblahblah
just does that to me (also, I did the art). Furthermore,

ladyblahblah
would like to inform you that she is totally wearing flowers in her hair right now and never kids; and I wanna tell her again how great it was to work with her. This piece turned out so much better for
her input
. Thank youuuu! ♥
Title:
Only now, it burns
Rating:
PG
Summary/Description:
When Spock goes away to purge all emotions, Kirk knows what he has done. And when he wakes up after another dream of the Vulcan desert, he feels his skin burning.
Warnings:
emosad, displays of manpain
Word count:
99
luftballons
words
I don't know if the others know why it happened. It doesn't matter, really; I know. Know I could have made him stay if I had been willing to give more, to be more. More His, and less the skirt-chasing commitment-phobe I made myself out to be. Old habits are hard to break, though. It seems there's something James Tiberius Kirk can't do, after all.
I can't feel him anymore. Didn't even realize I could until the touch of his mind was gone.
I still get up in the morning, and the sun still shines.
Only now, it burns.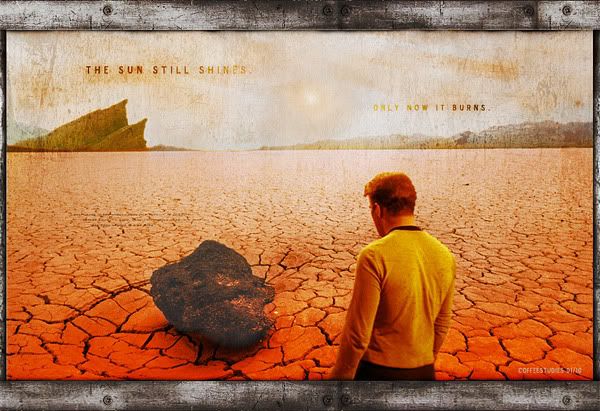 Bigger manpain is better!
various sizes:
( 1440x900 )
( 1280x1024 )
( 1280x960 )
( 1024x768 )
textures:
CG Textures
images:
TrekCore
,
National Geographic
*